"If you think the pursuit of good health is expensive and time consuming, you should try illness."  – Lee Swanson
Interested in a peek inside our pantry, fridge, bookcase and internet favorites? Below are lists of products and resources that we wholeheartedly recommend and personally buy. If you have any questions about any of them, feel free to contact us here.
Use Code WISEANDWELL for 15% Off Your First Order
Supplements
It is our policy to NOT recommend specific supplements without establishing a client relationship with you first.
If you have supplements you currently use and would like to order, we strongly encouraging purchasing only properly stored and distributed professional-grade products directly through dispensaries or manufacturer sites, NOT from Amazon, and for that reason we are happy to provide you with access via our professional practitioner dispensary via Fullscript: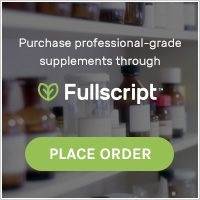 Note:  Some of the above links are affiliate links which means if you click on one and make a purchase after being referred from this website, we will receive credit for the sale.  This is usually a small percentage of the sale. Purchasing through affiliate links never passes any costs onto you, but it does help to support our mission and this website.  You are never obligated to use affiliate links to purchase products, but if you do, your support is much appreciated!